3 March 2022: International Sex Worker Rights Day is a day dedicated to raising awareness about the human rights of sex workers. Sex workers across the world face various health and social inequities, heightened by factors such criminalization of their work that results in their stigmatization, social and economic exclusion. 
IPPF strives to ensure that the rights of all people are protected and upheld, including those of sex workers. Through it's Member Associations, IPPF provides quality healthcare services to this group of vulnerable people. On International Sex Worker Rights Day this year, IPPFAR highlights the work of it's Member Association in Uganda -Reproductive Health Uganda in serving sex workers. We tell this through the experience of Harriet. 
Story by Maryanne W. Waweru / Photos by Fortunate Kagumaho
24-year-old Harriet* is a sex worker in Uganda's capital city, Kampala. The mother of one began sex work four years ago, after being introduced to the trade by a childhood friend.
"I was idle in my village in Bugiri district, Eastern Uganda. I come from a family of 11 children and my parents, who are peasant farmers, did not have much to provide for us. When my friend told me there were plenty of ways to make money in Kampala and invited me to visit her, I jumped at the opportunity," says Harriet, who studied up to senior 4 of her secondary education.
In Kampala, Harriet would watch with envy as her friend prepared herself every evening to go to work. She would take a shower, apply scented lotion, slip on a tight-fitting dress, apply make-up, put on a pair of clip-on earrings, a glittering necklace and slide into some pumps before leaving the house. She would return in the morning, milk and bread in hand.
"With time, I got to learn about the work she did and when she told me it was time for me to join her in 'bringing milk and bread', I knew what I was in for," recalls Harriet.
The first time Harriet accompanied her friend to work, it was to a bar. Her friend introduced her to a middle-aged man, then left.
"She told me that I was safe with him because he was a friend. The man bought me a meal and several beers. Afterwards, we walked to a lodging a few meters away from the bar where we had sex. In the morning, he gave me 50,000 Ugandan shillings (USD14) before we left the room. It was unbelievable! I was so excited about him giving me that much money just for sex!" says Harriet, as she recalls her debut into the sex trade.
From that day, she began accompanying her friend to work every evening.
"We would go to bars where she would introduce me to men, who would buy us food and beer before we went to lodgings for sex. With time, I was able to establish my own clientele base."
After eight months, Harriet had saved enough money to move out of her friend's house and rent her own place.
"The money I was making was not bad. At least I did not have to depend on anyone as I was able to feed myself and buy some clothes, lotions, shoes, make-up, and jewelry," she says.
However, Harriet's work was not without challenges.  
"I would frequently get sexually transmitted infections (STIs) since I didn't always use condoms. Seeking treatment meant spending money, which was expensive. Many times, I would suffer in silence because paying for consultation and drugs meant digging deep into my pockets. I would only seek treatment when the infection was so bad that I could not work," she says.
One day while in the bar sipping on a beer and waiting for a client, a woman approached her.
"She told me she was a health worker from an organization called Reproductive Health Uganda (RHU). She gave me information about condoms, pregnancy prevention, HIV and STIs, adding that all these services were offered at RHU at a subsidized cost. She further told me about a programme for sex workers at RHU under the 'Moonlight Stars' clinic. Coincidentally, at that very moment I was suffering from an STI, so her reaching out to me could not have come at a better time. Encouraged by her warmth and her friendliness, I opened up, after which she invited me to the clinic the following day, assuring me she would be there to receive me," recalls Harriet.
The following day, Harriet made her way to the RHU Moonlight Star clinic, located in Bwaise, Kawempe division, Kampala, and true to her word, the health worker she'd met the previous day was there to receive her.
"She introduced me to the musaawo (clinician) before leaving, assuring me I was in safe hands. After telling her about my work and the problem that had brought me to the clinic, she understood me right away. I didn't have to explain myself much and I didn't feel judged or rebuked by her. In other health centers I had visited, some clinicians would make snide remarks about me, asking why I sleep with other women's husbands. Some would tell me that I could find something better to do with myself such as sell vegetables, while others openly preached to me. Sometimes, other clients would get served before me, yet I had arrived earlier.
But I didn't feel this way with the musaawo at RHU that first day, and the good services I receive have encouraged me to keep returning there. I have referred many of my friends to RHU and they too share similar sentiments. The staff are very professional and always make us feel welcome at their facility, whose services we also find to be very affordable. Even when we don't have money, the RHU staff never turn us away. They still treat us, something that we have never experienced anywhere else. That's why we keep going back to RHU," she says.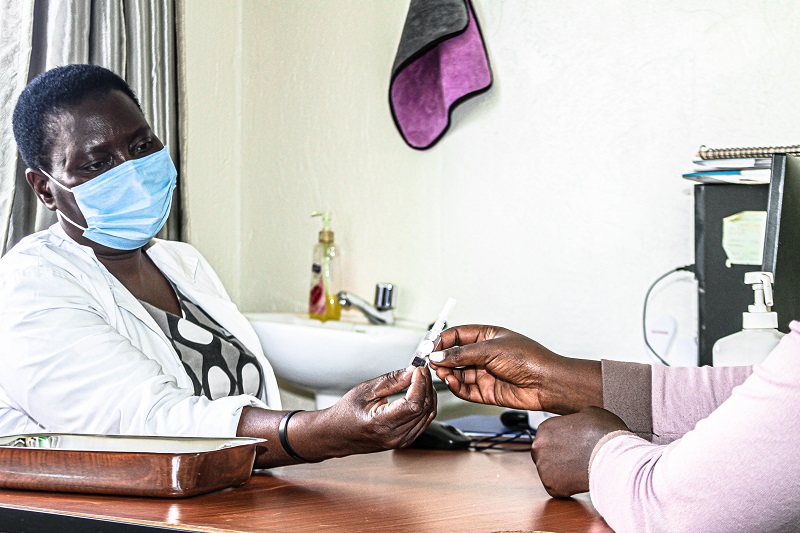 Harriet says she has learnt a lot about her reproductive health from RHU, including family planning. She is currently on the Jadelle implant as she does not want to get pregnant.
"The musaawo told me that the implant would give me protection for five years, though if I wanted to take it out earlier in case I was ready to have a child then I could. I have also learnt about the importance of condoms, and I usually get them from RHU. I never run out of them, because RHU always has them in stock," she says.
Sex workers like Harriet form part of the key populations that RHU targets in their work. Key populations, identified by UNAIDS, includes sex workers, men who have sex with men (MSM) and injecting drug users, all of whom have the highest risk of contracting and transmitting HIV. Their activities are usually criminalized and highly stigmatized, including by healthcare workers, which hinders their access to much-needed prevention, care and treatment services. This increases their vulnerabilities to negative health outcomes. Sex work is criminalized in Uganda.
Rhoda Namukwana, the nurse in charge at RHU's Bwaise Moonlight Star clinic says one of their areas of specialty areas is serving at risk people and key populations.
"The Bwaise area consists of densely populated slums that have a high population of sex workers and their clients. We offer a wide range of sexual reproductive services at our clinic, which are highly accessed by sex workers. Our outreach activities involve going to sex workers' hotspots such as bars, lodgings and popular streets where they congregate, socialize and approach clients. There, we give them information about sexual reproductive health and rights and refer them to our clinics for further management. These venue-based services at sex worker hotspots enhances their access to services, and also helps to address the limitations of clinic-based services," she says.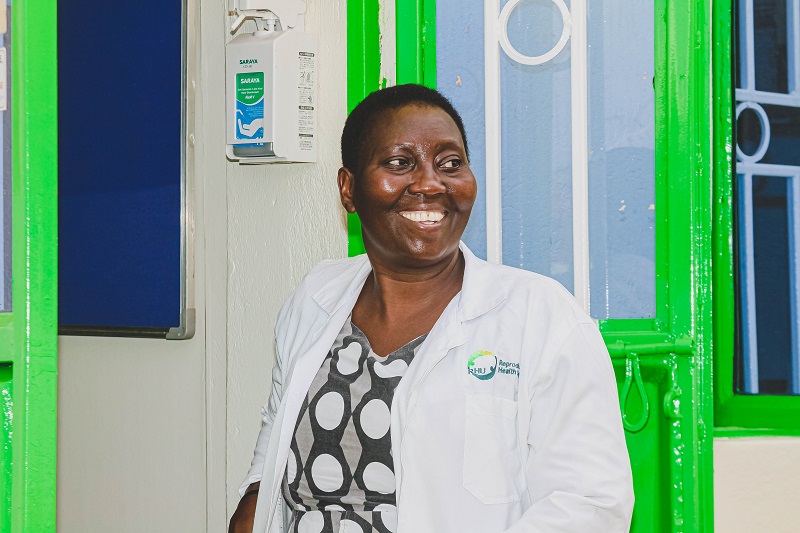 According to Namukwana, RHU's range of services targeted at sex workers include: family planning, laboratory services, antenatal and postnatal care, safe abortion services, cervical cancer screening, HIV counseling and testing, and STI treatment, and well as treatment services for minor ailments. Clients also get referred for Pre-exposure prophylaxis (PrEP), which is a course of HIV drugs taken by HIV-negative people to protect them against HIV infections. For clients who test positive for HIV, RHU refers them to its partner health facilities for further management, which includes antiretroviral therapy (ART).
"In a day, we serve about 30 clients, mostly women, who include sex workers. A lot of the services are STI related, including those related to HIV testing services."
HIV prevalence among sex workers in Uganda was estimated at 37% in 2015/16, with sex workers and their clients accounting for an estimated 18% of new HIV infections during the same period. (Avert)
Since she began sex work four years ago, Harriet remains happy with the services offered at RHU's Moonlight Stars Clinic.
"RHU has been a great partner in my work. The information and services I receive have enabled me to live a healthy life," says Harriet, who is saving money from her sex work with the hope of starting her own business someday -a bakery.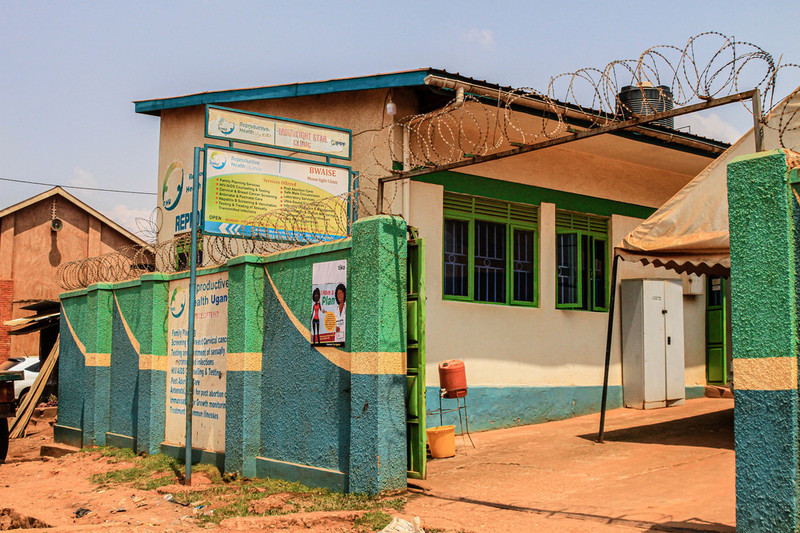 *Name has been changed to protect her identity.
Also read related story: Promoting the Human Rights of Sex Workers in Uganda
Maryanne W. Waweru is the Communications Officer, IPPF Africa Regional Office. Fortunate Kagumaho is the Communications Coordinator at Reproductive Health Uganda.
Related Member Association
Reproductive Health Uganda