By Maryanne W. Waweru
Cervical cancer, a type of cancer that occurs in the cells of the cervix, is ranked as the fourth most common cancer among women globally, according to the World Health Organization (WHO). About 90% of the new cases and deaths worldwide in 2020 occurred in low and middle-income countries.
Countries in sub-Saharan Africa experience a disproportionate burden of the disease, where 19 of the top 20 countries with the highest cervical cancer burden were in sub-Saharan Africa in 2018.
In the West African country of Nigeria, over 12,000 new cervical cancer cases are diagnosed annually (estimations for 2020) and it is the second most common female cancer in women aged 15 - 44 years in the country.
IPPF's Member Association in Nigeria, the Planned Parenthood Federation of Nigeria (PPFN) is involved in various efforts aimed at increasing access to cervical screening and treatment in the country. PPFN's efforts are geared towards closing the gap in cancer care in the country, complementing Government and other stakeholders' efforts to increase access to life-saving preventive services, diagnosis, treatment and care. Recipients of PPFN's cervical cancer services include women living with HIV, who are six times more likely to develop cervical cancer compared to women without HIV.
PPFN uses the Visual Inspection of the Cervix with Acetic Acid (VIA) screening and cryotherapy treatment approaches across its 45 clinics spread over 36 states in Nigeria. It also offers these services in over 100 associate health facilities across the country.
Eliminating the cost barrier
Dr. Abubakar Okai Aku, a PPFN healthcare service provider says cancer services at all PPFN and associate health facilities are offered at an affordable, subsidized cost which enables more women to access the services. High medical fees are a significant barrier to people's access to healthcare.
Additionally, PPFN conducts mobile outreach clinics offering a wide range of sexual reproductive health services, including cancer services, to vulnerable communities in hard-to-reach, poor and marginalized areas. These areas, mostly in the countryside, have no proper road infrastructure and have few and poorly equipped health facilities. In some areas, insecurity challenges hinder access to health services.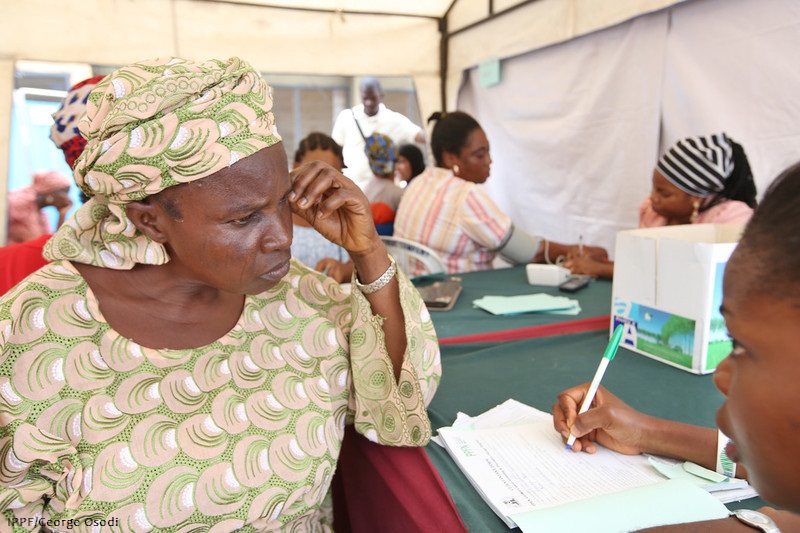 "PPFN accesses these areas by working with local Governmental authorities, the primary healthcare system and local community structures that include community health volunteers, chiefs, religious leaders and other gatekeepers to enhance our outreach work," says Dr. Abubakar.
He notes that since many women in these areas cannot afford the services, PPFN offers the services for free. Referrals are also made to PPFN's nearest static clinics, as well as Government health facilities - with whom the organization collaborates closely.  
Husband's permission to access health services
PPFN's work in the community is however not without challenges. According to Dr. Abubakar, they must contend with cultural factors that hinder women's access to reproductive health services. For example, some men do not allow their female partners or household members to go to the clinic without their permission and when they allow them to, they would only allow it under certain conditions.
"The husbands tell the service providers to first come to their house and explain the services they wish to offer to their wife or wives. Sometimes they grant permission, other times they don't. Many women in rural communities are often not in full control  of their own health. Since many don't work, they not only have to ask their husbands for permission to go to the clinic or attend mobile outreaches, but they also need money for transport and for treatment. To this end, PPFN works with male champions in the community, sensitizing them on the need to empower women and enabling them to take charge of their own health," says Dr. Abubakar.
Dr. Abubakar also notes that misinformation, stigma and ostracization around women's cancers also prevents many women from seeking cancer screening, treatment and care services.
"We have seen women present with cancers at an advanced stage, leading to negative health outcomes. PPFN diligently works with local community structures to dispel myths and rumors about cancer, educating them and encouraging them to seek prevention and treatment services," he says.
PPFN is committed to addressing gaps with regard to cervical cancer prevention, treatment and care services in the country. Learn more: Closing the Cervical Cancer Care Gap in Nigeria.
Maryanne W. Waweru is the Communications Officer, IPPF Africa Regional Office.
For more updates on our work, follow IPPF Africa Region on Facebook, Twitter, Instagram and You Tube.
Related Member Association
Planned Parenthood Federation of Nigeria