By Kalson Ahmed
International Women's Day (IWD), celebrated on March 8th, is a global event recognized by the United Nations. The seeds of this day were first planted in 1908, when 15,000 women marched through New York City demanding better pay, shorter working hours and the right to vote. The day was globally celebrated for the first time three years later, and since then, has been a day for women to be celebrated and their achievements in different fields to be recognized and applauded.
Women and girls have been recognized as powerful forces in the fight for climate change mitigation and are part of sustainability initiatives globally. Their participation, advocacy and leadership has resulted in more effective actions to combat climate change. It is imperative that women and girls continue to be empowered to have a voice and be part of decision-making processes in all areas.
The UN Women's theme for IWD 2022 is  "Gender equality today for a sustainable tomorrow". Climate change and issues of sustainability continue to have extremely harsh effects on environmental, economic and social development. These effects will inevitably negatively impact marginalized and vulnerable communities. Women and girls make up for a large part of these vulnerable key populations, and will be more affected as they are the majority of the world's poor and are more dependent on natural resources than men.
These factors are felt more-so by women living in Africa, where gender and economic inequalities are more prevalent. These inequalities, together with gender-specified labor responsibilities, exacerbate the negative impacts of climate change on women and girls in comparison to men.  An example of this is in sub-Saharan African communities, where women primarily are tasked with the responsibility of travelling for long distances, usually on foot, to fetch water. As climate change and global warming effects continue to result in water scarcity, women may have to travel longer distances to access clean water, or in some cases, school-going girls may be forced to assist with fetching water instead of going to school.
As a result of the increasing effects of climate change and gender inequalities on women, specifically in the African context, women are uniquely situated to be at the forefront of the fight against climate change and its impact.
The works of African women and the advances they have made in raising awareness on and mitigating the effects of climate change cannot go unrecognized. This article highlights four of the many African women making great strides in the fight against climate change in their communities through empowering young people and young women to be part of the movement.
Elizabeth Wanjiru Wathuti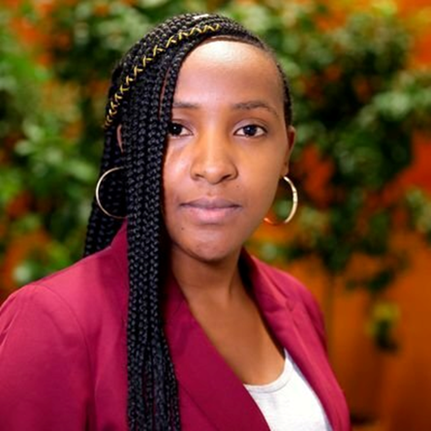 Elizabeth, a recipient of the Wangari Mathai scholarship award, founded the Green Generation Initiative  in 2016 to address the global environmental challenges that have concerned her since childhood, deforestation, climate change and pollution. The initiative nurtures young environmental enthusiasts, greening schools through environmental education that addresses issues such as food insecurity and deforestation. This is done through tree planting programs and a tree adoption campaign to encourage reforestation.
Elizabeth was not only awarded the Africa Green Person of the Year Award by the Eleven Eleven Twelve Foundation in 2019, but she was also named by the Africa Youth Awards as one of the 100 Most Influential Young Africans. She has planted over 30,000 tree seedlings in Kenya. (Source: The Green Institute)
(Photo Credit: The Green Institute)
Hindou Oumarou Ibrahim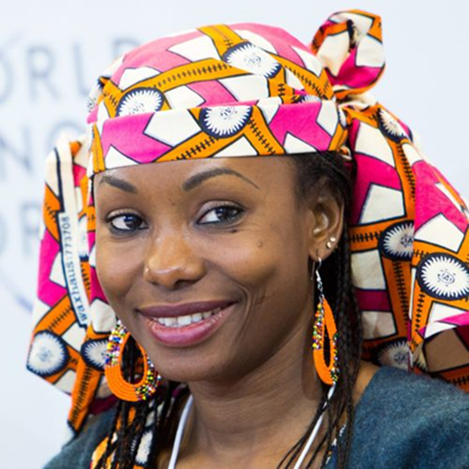 Hindou is a Chadian environmental activist and geographer. A member of the Mbororo pastoralist people in Chad, Hindou became painfully aware of the ways that she, as an indigenous woman, was discriminated against as well as the ways in which her community was marginalized and excluded from educational opportunities that she was lucky enough to have received. As a result, she founded the Association for Indigenous Women and Peoples of Chad (AFPAT) in 1999, a community-based organization to promote the rights of girls and women in her community. Hindou is a strong advocate for the inclusion of indigenous people and their knowledge and traditions in the global movement to fight the effects of climate change. She also sits on the Executive committee of the Indigenous Peoples of Africa Coordinating Committee (IPACC) and is co-chair of the International Indigenous Peoples Forum on Climate Change (IIPFCC). Ms. Oumarou is also a recipient of the Pritzker Emerging Environmental Genius Award, was appointed as a UN Sustainable Development Goals Advocate, is a member of the UN Permanent Forum for Indigenous Issues and the Advisory Committee to the Secretary-General's 2019 Climate Action Summit and is a Conservation International Senior Indigenous Fellow. Time Magazine listed her as one of 15 women championing action on climate change. (Source: UNFCCC).
(Photo Credit: https://www.nationalgeographic.org/find-explorers/hindou-oumarou-ibrahim)
Nzambi Matee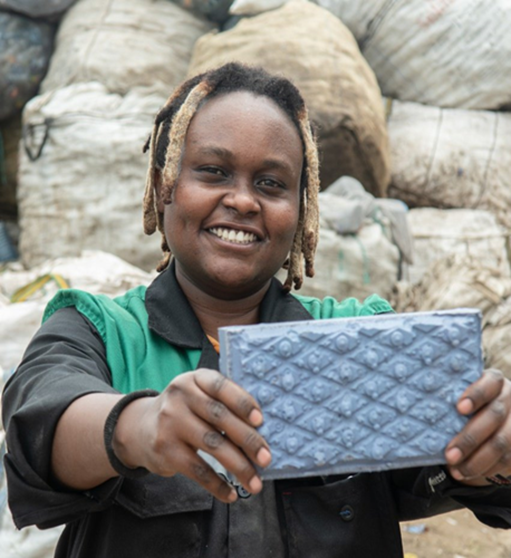 Nzambi, a former data analyst, quit her job in 2017 and put all her savings and energy into creating paving blocks from plastic waste mixed with sand. Matee founded G-jenge Makers, a company that produces 1000-1500 recycled plastic pavers each day, which are praised by users as they are both durable and affordable. According to The United Nations Environment Programme, five trillion single-use plastic bags are used annually, while 1 million plastic bottles are purchased every minute. In Nairobi alone, about 500 metric tons of plastic waste is generated every single day. Nzambi's invention stemmed from her simply being tired of sitting on the sidelines and complaining about plastic waste, although she emphasizes that plastic waste is not just a Kenyan problem, but a global one.
In the early days of her project, Nzambi won a scholarship to attend a social entrepreneurship training program in the United States, which gave her the opportunity to further test the paver block samples at the material labs in the University of Colorado Boulder to perfect the ratios of sand to plastic. She also was named the Young Champion of the World 2020 for Africa by the United Nations Environment Programme.
(Photo Credit: Twitter.com: @nzambimatee_ke)
Yvonne Aki-Sawyerr
Sworn in as the mayor of Freetown, Sierra Leone, Yvonne Aki-Sawyerr is a vocal supporter of the Global Green New Deal. In 2019, Mayor Aki-Sawyerr launched a three-year vision for the development of Freetown named "Transform Freetown". This plan aims to tackle several environmental issues such as waste management, housing, improved urban planning and environmental degradation in order to advance and achieve sustainability. In an interview with the United Nations Environment Programme (UNEP), the mayor emphasized that the effects of the pandemic, together with climate change, will result in increased risks for vulnerable groups and peoples such as those "living in informal settlements, in inadequate housing and sanitation.". She went on to emphasize the need to ensure that climate change mitigation, reduction of rural-urban migration, and investing in infrastructure.
In another interview with the BBC, the mayor stressed the importance of implementing climate change initiatives, and the positive impact this can have on human lives. Freetown, under Yvonne's leadership, has committed to planting one million trees over the next three years to combat the rising global temperatures due to global warming, by capitalizing on the cooling effects of the trees. She stated that climate change could be a catalyst for an increase in inequality. An example of this being through crop failures due to the high temperatures which would result in an increased rural-urban migration that most cities simply do not have the infrastructure to handle. In 2021, Mayor Aki-Sawyerr appointed Freetown's first Chief Heat Officer, to "accelerate the protection of vulnerable people and implement cooling solutions for long-term health and well-being of the citizens of Freetown and ultimately, other cities in the continent.".   
(Photo Credit: UNEP)
Kalson Ahmed is a sexual reproductive health and rights (SRHR) advocate, and IPPF Africa Region intern in the Regional Director's office. 
Twitter: @kalsonaay
For more updates on our work, follow IPPF Africa Region on Facebook, Twitter, Instagram and You Tube.