By Anita Nyanjong
International Day of the Girl Child, Tuesday 11 October 2022. It is now a decade since the United Nations declared the first International Day of the Girl. Whilst this day was set aside to draw the attention of policymakers to the pressing issues that affect girls, a lot more still needs to be done to alleviate the challenges that girls worldwide face. These challenges include early child and forced marriages, nutrition, legal rights, education and medical rights.
Adolescent pregnancy, for example, is a leading global challenge with tremendous social and economic consequences. The World Health Organization (WHO) report indicates that despite a worldwide decrease in adolescent births, from 64.5 births per 1,000 women in 2000 to 42.5 births per 1,000 women in 2021, there are still some variations in and between countries.
For example, there is a higher decline in adolescent birth rates in South Asia. However, Latin America, Caribbean regions and sub-Saharan Africa registered the slowest decline, with 101 and 53.2 births per 1,000 women, respectively.
Factors such as early child and forced marriages, child sexual exploitation and violence often increase the risks of unintended pregnancies amongst girls. These challenges are further exacerbated by legal and cultural barriers around contraceptive use by girls, which often lead to unintended pregnancies and other health and life risks.
Today, there is little evidence of contraceptive use among adolescent girls. Yet, data about adolescent behaviour is critical to ensuring that budgeting, programming and policy development serve their interests.
In addition, the age of sexual consent laws in many jurisdictions does not reflect the realities of adolescent girls' sexual relationships. An IPPF multi-country study on legal barriers to access to sexual and reproductive health services in young people revealed that the majority start having sex between 13 – 15 years in Senegal. However, service providers interviewed as part of this study contended that the ages could be as low as 10, 11 or 12 years. The study also revealed associated criminal offences with sex with a child under 16 in Senegal.
While there is a need to protect children from sexual abuse and exploitative relationships, the law equally places criminal sanctions against sexual relationships between peers.
In many countries worldwide, sexual consent laws fail to recognize the reality that young people are having sex. In some such as Senegal, although the age of consent for sex is similar across different gender, there is a disparity in the legal age of marriage, with girls expected to marry earlier. The law on the age of consent for sexual activity perpetuates inequalities without addressing young people's sexual realities. Ironically, the laws of consent also extend to young people's access and use of contraceptives.
Most countries fail to meet the contraceptive needs and realities of adolescent girls, which puts their lives at risk. For example, most deaths related to childbirth occur amongst girls between 10 – 14, who are five times more likely to die of complications related to pregnancy and childbirth than their counterparts between 20 – 24.
To ensure that girls grow to become autonomous and empowered individuals who can contribute to their countries' socio-political and economic lives, more investment must be focused on improving access to information and services.
Countries must sustain investment in youth-centered care. They must ensure that services are readily available, that services providers are well trained and allow girls to contribute to the decision-making, including about their sexual and reproductive lives. In 2021, IPPF, through its Member Associations, in over 140 countries, delivered almost half of all services to young people accounting for  43% of services (98.4 million).  Further, 34.8 million young people completed quality-assured CSE programmes delivered (in both in and out-of-school settings). This is good progress and demonstrates the need for the continuation of the delivery of age-appropriate, gender-integrated comprehensive sexuality education (CSE) to improve and protect their health and well-being, support them in developing critical thinking skills, and ensure positive relationships. Finally, countries must strengthen their laws to provide more protection and support to adolescent girls and to ensure lasting economic and political changes.
As this year's international day is celebrated under the theme, our time is now – our rights, our future; there is an urgent need to accelerate the progress made over the past decade. To do this, girls' voices must be heard, with their lived realities informing all our interventions. Further, their potential needs to be promoted to ensure a sustainable future.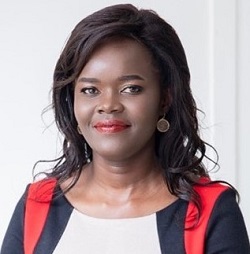 Anita Nyanjong is the IPPF Global Lead (Youth).
For more updates on our work, follow IPPF Africa Region on Facebook, Twitter, Instagram and You Tube.