By Faith Kadzanja
People with paid jobs are joyful when a month comes to its end because it signifies an influx of cash into their bank accounts and pockets. But for some women and girls, the end of the month stirs anxiety because they're thinking about their next period, and if they can afford their menstrual hygiene products if it arrives before they get paid. 
In Malawi – where almost half of the population lives below the poverty line and 25 in every 100 people live in extreme poverty – only a few girls and women can afford sanitary pads.
Too embarrassed to go to school
Menstruation, lasting about five days, requires an average of K600 ($0.74 USD) worth of pads a month for most. That money is too much for some girls, such as Lilongwe-based Prudence Chavula, who recalls with apprehension the first days of her periods when she would use rags to keep the flow in check. 
"I was nine years old when I started menstruating. Back then, my parents could not afford to buy the pads every month, so I had to use shreds of old pieces of fabric," Prudence explains. She says it was embarrassing going to school while having her periods since the rags could easily leak and produce a bad smell.
Prudence concedes it is not easy for many girls and women from low-income families to afford sanitary products. Thus, she says, they opt for alternatives which are usually unhygienic and hazardous to their health, sometimes leading to urinary tract infections.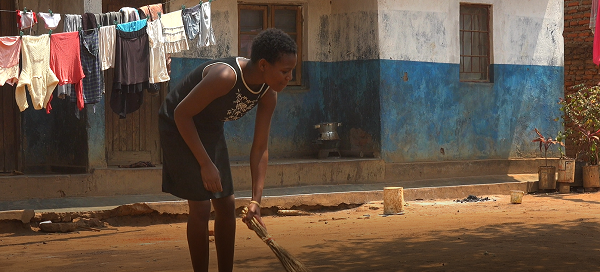 Mary Sinoya, a Form 4 [the final year of secondary school] student in Lilongwe, says when she asks for money to buy sanitary pads from her parents, it is usually not available and so she just uses fabrics. She says during holidays she sells fritters to make money to buy sanitary pads, but it's not possible to do this when she has school on. 
Conversely, Queen Mwandira, who is also based in Lilongwe, says that even though her parents can afford her sanitary pads, using them is not an option because she does not have access to pit latrines to dispose of them after use. "As such I just use reusable pads, which we wash afterwards,'' she says.
Infections are commonplace
Blantyre-based Aida Kaozala believes such infections, that she has had on several occasions, are due to the unsanitary fabrics she uses when menstruating.
"When I started having my menses [period] at the age of 11, my mother instructed some women to advise me to use rags from old cloth. It would often make me feel so uncomfortable at school that I would sometimes remove them," Aida says.
She is still using the shreds because she cannot afford the sanitary pads every month as she does not have a job. Every time Aida suffers from urinary tract infections, doctors advise her to check her personal hygiene. She knows the source of her health troubles but cannot easily deal with it. This is a common story for many girls and women in Malawi. 
What are the solutions?
Reusable sanitary pads could solve this crisis, says Peter Mndalasini, the founder of the 10+ Her Period Her Pride Project, who further touts the materials he uses as environmentally-friendly. Mndalasini says 30% of young girls in Malawi, especially those in rural areas, stay out of school during their periods, and he wants to change that. So his organization is training primary and secondary school girls to fashion reusable pads to counter the financial restrictions of not being able to afford disposable pads.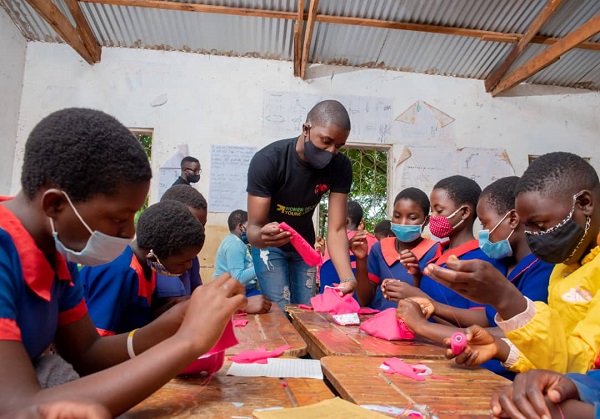 Water and Environmental Sanitation Network Communications Officer, Gloria Nyirenda, whose organisation is a member of the Menstrual Hygiene Management Hub, believes removing tax on sanitary materials can also make them easily accessible to poorer Malawians.
"In some countries such as Kenya, Uganda and the United States, this has been done. Most households in Malawi cannot afford sanitary pads, which are often seen as luxuries. It is all because of poverty," Nyirenda says. She even proposes that the materials should be provided free of charge and placed in public restrooms and institutions.
Apart from reusable sanitary pads, the menstrual cup is another option that girls and women can opt for. The small, flexible cup, made of silicone or latex rubber, catches and collects the flow instead of absorbing it like the pad does.
Martha Mataka of Dedza finds the cup more convenient than the pads. "I ensure I thoroughly clean the cup and use it every month. I don't have to regularly buy the pads because I can't afford them," Martha says.
United Nations Population Fund introduced the cups, which were discovered in 1930, as an alternative measure for managing menstrual hygiene among girls and women. The product remains new in Malawi, despite the fact that it can significantly reduce absenteeism if widely adopted by schoolgirls from poor households.
The challenges faced by menstruators in Malawi are plenty – but we see that the solutions exist too. Women and girls must no longer be held back by the natural functions of their bodies. It is far too long overdue. 
This piece was originally posted by the Family Planning Association of Malawi (FPAM)
Faith Kadzanja is the Communications and Advocacy Officer, FPAM.
For more updates on our work, follow IPPF Africa Region on Facebook, Twitter, Instagram and You Tube.
Related Member Association
Family Planning Association of Malawi