Dr. Elias Girma, WISH2ACTION Programmes Director
As a development programming professional in sexual and reproductive health for over ten years, I have overseen various initiatives in South Sudan's reproductive health sector, and I am acutely aware of the pressing need for improvement. Rebuilding from years of conflict, the country's reproductive health indicators, as reported by the World Health Organization, and Track 20 highlight alarming statistics, as illustrated:
While the government has formulated policies and strategies, addressing the underlying challenges on both the demand and supply sides is essential to achieve better reproductive health outcomes.
A collaborative effort
To support the government's efforts, donors, development organizations, and humanitarian agencies are funding and implementing projects in South Sudan. One such project is the WISH2ACTION programme led by the International Planned Parenthood Federation (IPPF) and funded by the UK's Foreign, Commonwealth & Development Office (FCDO). The WISH programme operates in South Sudan through a consortium comprising three organisations: the Reproductive Health Association of South Sudan (RHASS), Humanity Inclusion (HI), and the International Rescue Committee (IRC). RHASS and IRC deliver family planning and other sexual and reproductive health (SRH) services, while HI serves as a technical partner, supporting the two on disability inclusion. RHASS is implementing the project through 17 static, 35 CBDs, and 20 outreach channels in three states (Juba and Yei in Central Equatoria, Wau in Western Bahr el Ghazal, and Torit in Eastern Equatoria) while IRC is in Aweil East in Northern Bahr el Ghazal and Bentiu in Unity States. Both partners offer a wide range of family planning methods, including oral pills, injectables, implants, condoms, intrauterine devices (IUDs), and emergency contraceptive pills.
The WISH2ACTION footprint
The implementation of the WISH programme began in early 2019 and has already achieved significant milestones:
While these achievements are commendable, challenges have been faced on the demand side, such as resistance to modern family planning methods due to misconceptions and deeply ingrained patriarchal social norms. Service providers under the WISH programme have experienced instances of harassment by husbands or partners, resulting in some cases being taken to court, with unfavourable rulings affecting both the providers and the women seeking services.
A shift in the landscape
Nevertheless, we are witnessing encouraging signs of a shift in favour of increased acceptance of modern family planning methods in South Sudan. The number of family planning clients has steadily increased, and, notably, more women are adopting Long Acting and Reversible Contraceptives (LARCs). IRC's data reveals a doubling in the proportion of clients opting for implants between 2019 and 2022. These positive changes indicate progress and reflect the ongoing efforts to address barriers to family planning.
Client exit surveys conducted by an independent agency, GENESIS in Aweil, Bentiu, Wau and Juba over a four-year period support these observations: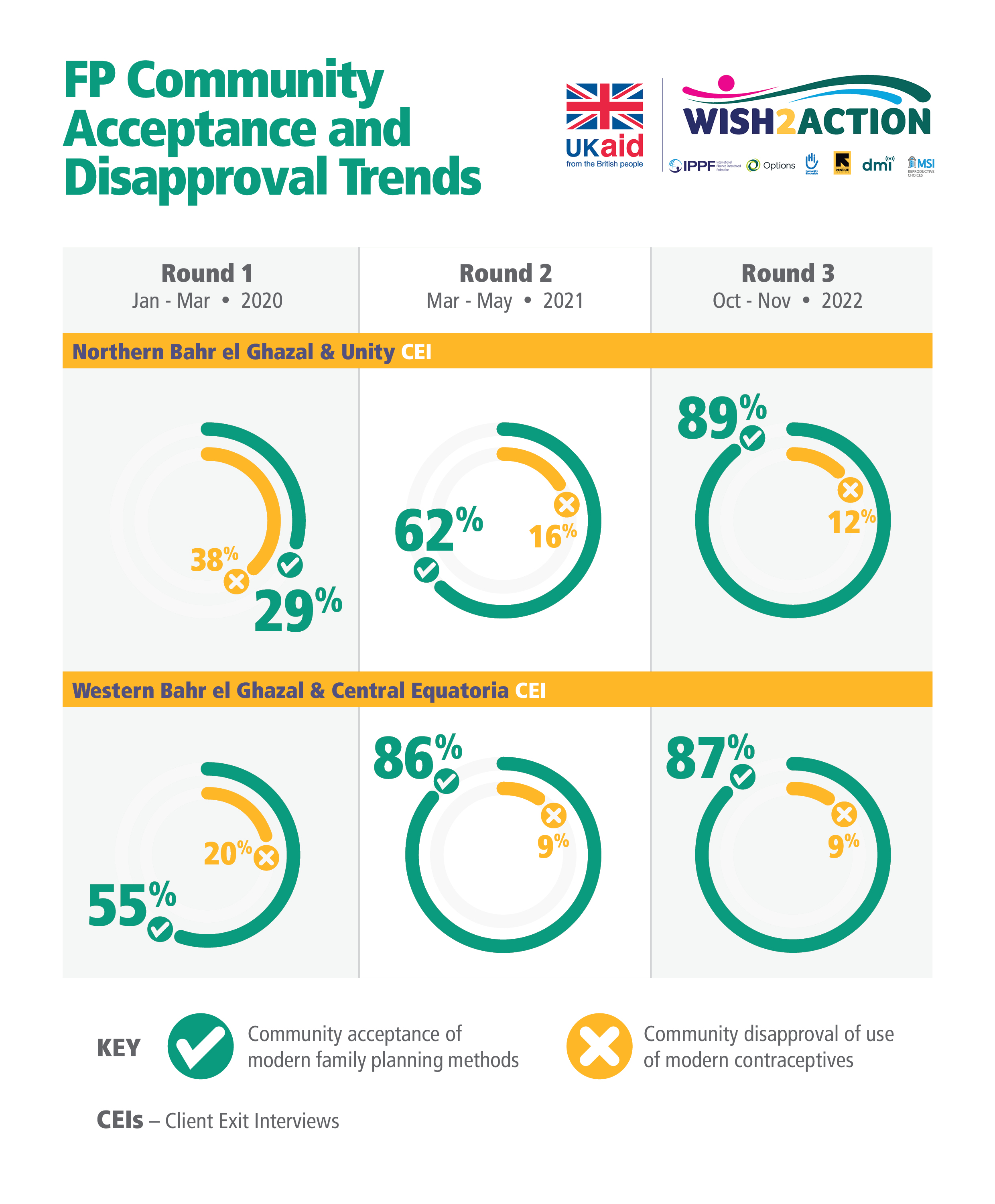 Sentiments on the Ground
Informal discussions with women, youth, men, and community leaders during a recent project visit in Aweil revealed a growing recognition of the advantages associated with modern contraceptive methods. One recurring theme was the economic challenge of meeting the cost of living, particularly in the context of raising multiple children. Community members emphasized the importance of providing for their children's needs, including education, which was seen as a critical factor for their prospects. These sentiments align with the changing landscape in South Sudan, as parents increasingly prioritise education for their children following the cessation of long-standing conflicts. A qualitative study conducted by Kane et al. (2016) in Western Bahr el Ghazal corroborates these observations and offers further evidence (Kane et al., 2016).
Positive Trends and Future Prospects
While these observations are specific to the project areas visited, they hold broader implications for the SRHR sector in South Sudan. The documented recognition of the benefits of modern contraceptive methods can serve as a starting point for discussions among stakeholders. Implementing partners should be encouraged to undertake similar surveys and assessments, contributing to a growing body of evidence on the changing attitudes towards family planning in the country. Sharing these findings will facilitate meaningful discussions at both national and sub-national levels, ultimately accelerating the acceptance of FP practices.
If positive trends continue, South Sudan stands to witness improvements in reproductive health indicators, making it imperative to maintain and expand existing programmes such as WISH2ACTION to optimize the benefits of prior investments.