More than half of Africa's women live in rural areas. These women and girls, though diverse in their identities and situations, face similar barriers in accessing critical and timely sexual and reproductive health information, services and commodities.
They often live at great distances from health facilities, which often turn into perilous and difficult journeys; the services are often inadequate and costly, medical staff are poorly trained or often just absent; services provided lack confidentiality; women are faced with long waiting hours, work and family obligations and the constant fear of stigmatization and discrimination. The list is truly endless.
Additionally, those that may need to access health services lack awareness and knowledge of when and where to seek it. Comprehensive Sexuality Education (CSE) is conspicuously absent from school curriculums, and young girls are often unaware of concepts as basic as menstrual hygiene. Rural women and girls, more so that their urban counterparts, also lack knowledge about contraception and safe maternal health practices. They live in largely patriarchal societies, they cannot make independence choices and lack bodily autonomy. They lack choice as to when to have sex, when to have children, whether and if they can use contraception. Not surprisingly, there are up to three times more pregnancies among teenage girls in rural and indigenous areas than in urban populations. This is all the more concerning when complications from pregnancy and childbirth are the leading cause of death among girls aged 15–19 years globally.
Women in rural areas also have lower access to safe abortions, given that few healthcare providers are able or willing to provide these services, even where safe abortion is an option. This, coupled with a lack of accurate knowledge of safe abortion and a strong fear of stigmatisation, means many women resort to seeking unsafe abortion services despite knowing about their risks. In Africa, 99% of abortions are unsafe, resulting in one maternal death per 150 cases.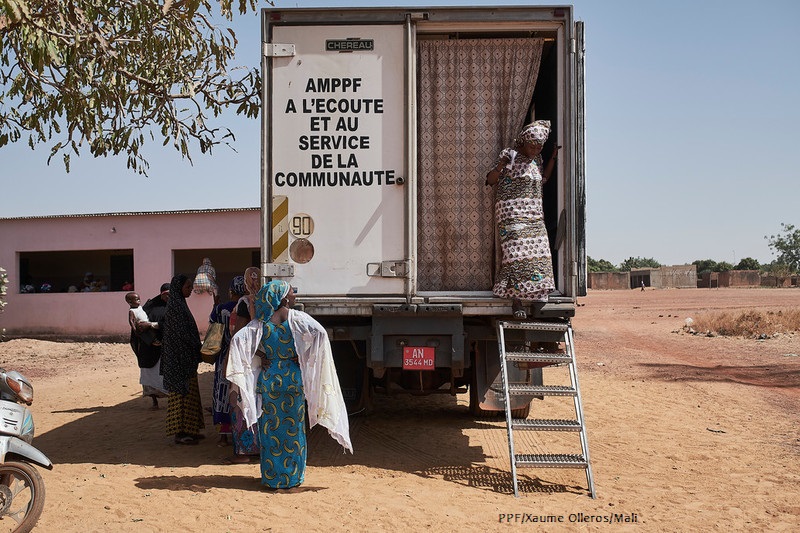 IPPF Africa Regional office works with Member Associations across Africa to deliver critical sexual and reproductive health services through a strong network of clinics, often located in very remote rural areas and many times the only health structure present. These clinics work in coordination with Government health structures, providing most services free-of-cost; and run regular training sessions to ensure medical practitioners have access to up-to-date medical knowledge. They also invest in the health structures of rural government-owned facilities to ensure delivery of high-quality health services. In areas with no health centers, MAs conduct regular mobile health clinics, where they provide integrated reproductive health services to isolated rural populations.
Further, models of social franchising, implemented for example by the Family Guidance of Ethiopia (FGAE), have proven to be successful in addressing the needs of many women and girls in remote areas. This kind of model entails a contractual relationship between franchisee and franchiser where the franchisee agrees to produce or market some important SRH products or services in accordance with an overall "Blue Print" devised by the franchiser.
To ensure a strong and complete continuum of care, a high number of Community Health Extension Workers (CHEWs) are recruited and trained. They conduct home visits, providing accurate information, basic services, and commodities.
Also, with the onset of the COVID-19 pandemic, new approaches were piloted. The Planned Parenthood Association of Zambia introduced a new initiative teaching women and  adolescent girls' to self-administer contraceptives, building their skills, knowledge, capacity and confidence to self-manage their contraceptive needs, and reducing their need to access health facilities.
All Member Association initiatives prioritize youth-friendly services, which go a long way in ensuring that girls and young women access SRHR information and services and are empowered to make informed decisions, no matter where they live. Through in-and-out-of-school programmes, peer educators under the Youth Action Movement (YAM) provide SRHR information and distribute condoms to young people in rural areas.
Through our advocacy efforts at national, regional and global levels, we raise our voices advocating for all women, ensuring that none is left behind. This goes in tandem with SDG 5: achieving gender equality and empowering all women and girls including rural women. We are relentless in holding governments accountable over their commitments to various instruments, including the Maputo Plan of Action (MPoA) and the Abuja Declaration.
Through its programmes, IPPFAR is committed to ensuring that all women and girls can fully exercise their reproductive rights. This is why today, on the International Day of Rural Women, we call on all Governments in Africa to invest in access to quality sexual and reproductive health for rural women and girls.
For more updates on our work, follow IPPF Africa Region on Facebook, Twitter, Instagram and You Tube.