By Maryanne W. Waweru
Arya Jeipea Karijo is a 40-year-old transgender woman living in Nairobi, Kenya. On this International Transgender Day of Visibility, we learn more about her experiences and those of the transgender community in Kenya, more so regarding their access to sexual reproductive health and rights (SRHR) information and services.
Tell us about your transgender journey.
I never had the words to describe myself but I knew I was different from the age of 20 years. I grew up pre-internet and I was everything a young Catholic boy/man should be. The church was my only point of reference for understanding the world around me. I was therefore always troubled when I tried on my sisters' make up or clothing, but I could never put a name on what I was feeling and experiencing at the time. 
In 2011, 30-year-old me got access to home internet for the first time. I spent a whole month researching and trying to find answers. My first search was "what is wrong with me".  
When I came across the word 'transgender', I was excited that I had finally found the explanation to what I was going through. I remember dressing up and stepping out to grocery stores in the neighbourhood, with my elation soon turning into panic as I realized that the world around me did not share my excitement. 
To balance out my life and to deal with my gender dysphoria, I would make androgynous clothing that fall outside of typical "male and female" cisgender norms. I would design my own clothes because I felt that the market did not have what I desired to wear. I was too scared to dress in clothes that were designated female, yet I hated clothes that were designated 'male'. I would conceptualize my own designs, then take them to a tailor who would translate my thoughts into unique pieces.  
Gender dysphoria is a term that describes a sense of unease that a person may have because of a mismatch between their biological sex and their gender identity.
The next part of my journey was finding my community, and this took me about seven years to do so --from the time I understood my identity to my interaction with Jinsiangu in 2019. Jinsiangu is a Kenyan-based organization that increases safe spaces for—and enhances—the wellbeing of Intersex, Transgender and Gender Non-Conforming (ITGNC) people in Kenya.  
I am glad it is easier for the younger generation now, as there are supportive communities, which are helping one navigate social, legal and medical transitioning.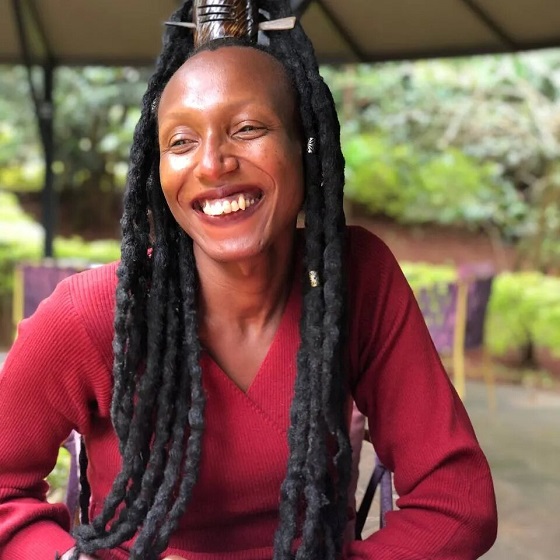 What is one of the major challenges that people living a trans-life face?
If something about you is not recognized by society, then it is a problem. In our schools, the sex education program that is taught is confined to 'male' and 'female' sexes and men and women genders. It says nothing about those who are outside the binary such as intersex persons when it comes to sexes or non-binary folx or about transgender people when it comes to gender.
Towards this, comprehensive sexuality education (CSE) curriculums should be reflective of transgender persons so that young people can grow up knowing that there are different types of sex in addition to being male and female, different categories of gender outside of being cisgender and different types of sexuality outside of heterosexuality.
When people are not accepted in society because of how different they are perceived to be, they constantly need to hide who they truly are. Owing to stigma, discrimination and identity issues, many people in the transgender community struggle with their mental health and with meeting societal goals and milestones. They subsequently live a life where they do not participate fully in society do not attain full education or participate fully in employment.
Society needs to be more supportive and inclusive of people who are different, and it could start by educating our children right from their formative years. When this happens, we will start having honest conversations. Education should be built on scientific truth and the lived realities of people.
What have been your experiences accessing sexual and reproductive healthcare services in Kenya?
In health facilities, when filling out forms, there are the exclusive options of 'M' for Male and 'F' for female. But for trans people, where do we fall? Which box do we tick? This makes us feel ostracized, that we are not recognized by the system. This prevents many from our communities accessing essential healthcare services.
We also need to access sexual reproductive health (SRH) services in facilities that uphold the tenets of good medical practice, where services are offered with respect, dignity and without any form of discrimination. Oftentimes, we meet healthcare workers who make a whole spectacle about us. They call their colleagues to the rooms and say: "come see this person who doesn't know if they are male or female!". When such jeers are done in front of other patients or members of the public, it heightens our risk for violence.
Unfortunately, the assumption by most health workers is that everyone is a cisgender heterosexual. Therefore, most sexual reproductive health services are provided within the confines of heteronormativity, which compromises service delivery for people who do not fall within these categories. For wholistic sexual reproductive health services, recognition of the different types of genders, sexual identities and expressions must be embedded into the healthcare system.
When it comes to HIV programs, for a long time, the national HIV guidelines in Kenya only referred to people as being 'male' or 'female'. Programmes and interventions were designed for these two groups of people. This meant that an entire population - the transgender community, were erased.
We would hear comments such as: "We understand certain populations such as gay men, sex workers, people who inject drugs and truck drivers, but we don't understand you. Who are you? What are you exactly, and how are you vulnerable to risky sexual behavior?"
"A recent study in Kenya found that HIV incidence among transgender women was 20.6 per 100 person-years, compared to 5.1 per 100 person-years among men who have sex with men exclusively. This shows that transgender people urgently need to be given priority in HIV prevention programming." (National Guidelines for HIV and STI Programming among Transgender People).
Over the last decade, the transgender community in Kenya has engaged in a lot of advocacy, with some of the results being evident. Today, transgender persons are included in conversations, especially regarding their sexual reproductive health.
For example, the transgender community was involved in the development of the National Guidelines for HIV and STI Programming among Transgender People by Kenya's National AIDS and STI's Control Programme (NASCOP). NASCOP spearheads the Ministry of Health's interventions on the fight against HIV/AIDS.
The guidelines reveal that in 2018, Kenya conducted a key population size estimation study that also mapped transgender populations. The study found an estimated 4,305 transgender people in female sex worker (FSW) and men who have sex with men (MSM) hotspots.
The guidelines further indicate that 'though Kenya has been reaching some transgender people through the existing FSW and MSM programs, it is essential to tailor HIV prevention interventions to specifically address the needs of transgender people'.
When I talk about progress made over the last decade, we are now recognized by the Ministry of Health, we nowadays see more medical professionals recognizing and understanding us. Health care providers in both public and private health facilities are continually being trained on transgender issues, and this has been helpful because we can now go to specific health facilities that have staff members who will not discriminate us.
Even though a lot more needs to be done to make us feel included and accommodated, we are happy to see the gradual positive change.
One other recommendation I would give is the need for more research on gender dysphoria and the vulnerabilities of the transgender community, more so their access to healthcare services. We have the same aspirations as everyone else; we want to be included, feel safe and thrive within our communities and society.
Note: If you have questions or seek information regarding your gender identity, please contact Jinsiangu Kenya through email [email protected] or +254111323995.
Maryanne W. Waweru is the Communications Officer, IPPF Africa Regional Office.
For more updates on our work, follow IPPF Africa Region on Facebook, Twitter, Instagram and You Tube.