By Maryanne W. Waweru
Thando Hlope is a 33-year-old South African video content creator and digital storyteller based in Johannesburg. An influential voice in the LGBTQIA+ community, Thando's YouTube channel is one of her most notable storytelling outlets.
Thando participated in IPPF Africa Region's Treasure your Pleasure campaign where she 'Rated the types of Lesbian Sex she's had'. We had a chat with her about the kind of content she creates, as well as her views on sexual pleasure, more so for African women.
What kind of content do you create?  
I live most of my social life surrounded by fellow members of the LGBTQIA+ community. Through observing my community, I've found there are many unique life experiences that would not translate in the heterosexual world. I enjoy telling stories of my observations online.
Even through my audience is largely made up of women in their mid 20's to late 30's, my core mission is to reach people who are receptive and would like to learn more about people in the LGBTQIA+ community. More than that, I enjoy adding to the pool of representation for people like me, that I never had growing up. My work is for any queer person to assure them that they are not alone.
How was your content received when you started out? And how is it received now?
My audience is aware that I am outspoken and frank. In fact, it is one of the reasons they click on my videos, because they know they are going to be met with frankness. My honesty about my experiences has always been well received.
Your video 'Rating the types of Lesbian Sex I've had' – tell us the thought process behind it. What message did you want to reach people with it?  
IPPF Africa Region (IPPFAR) reached out to me for a collaboration on a pleasure-based sexual health campaign it was running. IPPFAR outlined the mission of the campaign and the simple idea of sharing my sexual experiences immediately struck me when I read "we want people to talk sexy about sex" in one of the statements.
I purposefully made a playful, lighthearted video about a topic that can be so heavy for many, including myself. With my audience being mostly women, I assumed some of that demographic is also queer. I figured rating lesbian sex acts would be fun and relatable to my audience.
What feedback have you received from the video?
I was pleasantly surprised by responses of positivity, the lightheartedness and thirst for more. While I believed that some of the things I spoke about would be niched to just lesbians, it was a delight to see heterosexual women drawing parallels between my sentiments and what they also like sexually.
Why did you agree to work with IPPF Africa Region?  
I live in a country that has coined the term 'Correctional Rape' and has been suffering through years of femicide and gender-based violence. So, when we talk about sex in this country it's mostly about violent, non-consensual sex: RAPE.
IPPFAR communicated that the aim of the Treasure your Pleasure campaign was to get people to not only talk about sex, but to talk about sex in a sensual, pleasure-based manner and that interested me because I believe that pleasure-based sex education can a do a lot of good in a country where sex is attached to violence and trauma.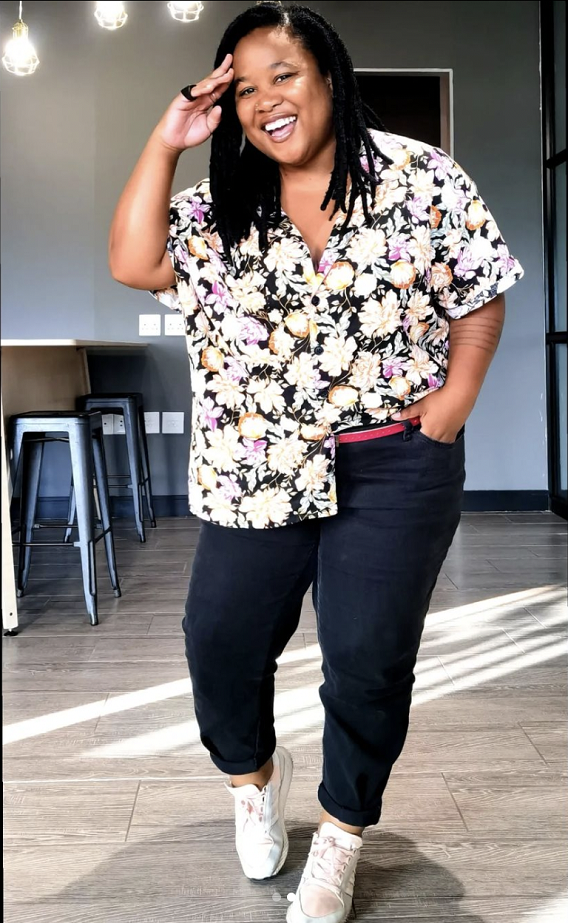 Do you think African women limit themselves from experiencing sexual pleasure? 
Of course they do, particularly heterosexual women. Whenever I talk about my sex life in social settings, 'straight' women tend to be intrigued by the most basic things about sex. For instance, the idea of pleasuring themselves is just obscene to them because a lot of their sexual engagements are aimed at pleasuring their partner with their own pleasure being secondary, if at all present. There is deep-rooted sexual shame amongst women and girls in South Africa.
There are polarities when it comes to sexual behavior for women. On one end you have a deeply entrenched purity culture where virginity testing is encouraged for girls to save themselves until marriage, so there is little to no education about the sex to be had once they do get married, other than possible procreation and pleasing their future husbands so they don't cheat on them. Women's sexual pleasure does not fit in this equation. How exactly are they supposed to please these future husbands? -- they will figure it out when they cross that bridge.
On the far end of the spectrum, you have a 'slay queen' culture, where young girls bargain with their youth and beauty to entertain older rich men dubbed 'blessers' in return for flashy, 'Instagramable' lifestyles. Slay queens are considered to be the most promiscuous, modern-day sex workers and a sign of a degrading society.
The middle of the spectrum is made up of women who are either conservative or engaging in just the right amount of "politically correct" sexual liberation discourse. Whether that translates in the bedroom I couldn't tell you. All I know is that a lot of women my age and older barely know the make-up of their own reproductive systems, so the pleasure chat is unlikely.
How can African women be encouraged to be in tune with what is sexually safe and pleasurable to them?  
I think the biggest issue is shame. If we are not being silent about our sex, we are looking for 'safe' terms to refer to our sexual organs so we don't offend. There is nothing offensive about consensual sex between adults. If we can drum that message enough then we have an ear to listen about the endless possibilities one can pleasure themselves, with or without a partner.
Are conversations about women's experiences on sex and pleasure different from how they were 10 years ago?
Although the hinderances are still the same; patriarchy, shame, violence, and purity culture, a lot of work has been done. I listen to Gen-Z talk about sex on TikTok and I don't cringe. They have moved on from talking about the birds and the bees and they are now addressing desirability politics.
Where women my age and older didn't know their husbands could rape them, the younger generation can articulate passionately and clearly on what kind of situations are sexual assaults, even those that were considered murky before. They are reclaiming their bodily autonomy and that to me is an indicator of growth in the sexual pleasure conversation.
Follow Thando Hlope on Instagram and You Tube.
Photos courtesy: Thando Hlope.
Maryanne W. Waweru is the Communications Officer, IPPF Africa Regional Office.
For more updates on our work, follow IPPF Africa Region on Facebook, Twitter, Instagram and You Tube.